Tomoring
Tomoring is a modular object consists of springs, rods, wires, combs and other materials on a board. The small sounds are amplified through piezo pick-ups. The each sound component is arranged in the space to evoke musical compositions by themselves.
The second version (2008)

Demo video

with electronics and voice

The first version (2002)
Tomoring with electronics

Tomoring with a camera

This version (2005) was a temporal instrument made entirely of materials found on the banks of the Shimanto River.

Voice Driven Tesla Coil Speaker (2016)

Specially built for the theatrical performance "Teslan Run", a collaborative theater work with Contact Gonzo. Voices from the voice performer are converted into MIDI in real-time, the tesla coil speaker plays notes following the MIDI data. This is a speaker itself, no amplification. See also Teslan Run.
Technique: YAKUSHIJI Mitsuhide, Programming: ADACHI Tomomi
Surround Violin (2016)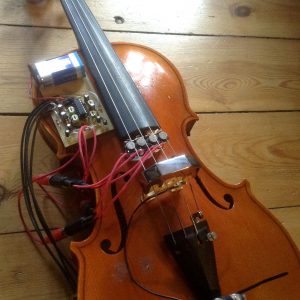 The violin has 4 independent magnetic pick-ups for each string, one string has one output. The four outputs are distributed to the 4 channel surround PA system.
Amplified Giant Cactus (2015)