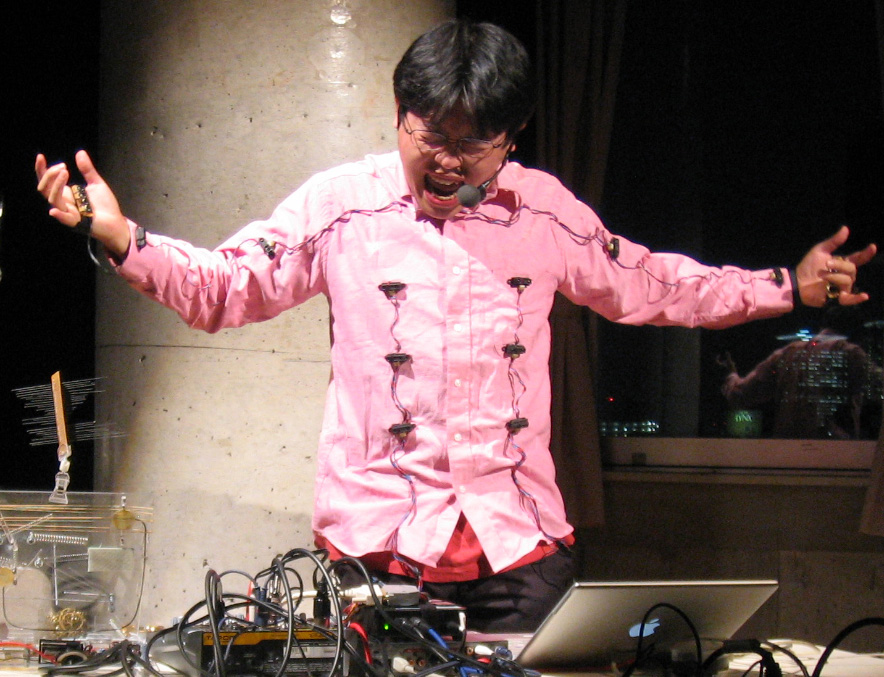 Solo performances with voice and electronics, especially self-made interfaces, are one of the main activities for a long period. He regards original interfaces include compositional ideas, which transform his movements to parameters of real-time sound modulations. Gestures are internally connected with the voice, the connections are interpreted to electronic sounds, the voice is externalized through modulations. Because of the emphasis on visual aspects of the physical performance, the audience easily understands the process. The performance is realized in interactions among voice, body and sounds, it positions between a composition and an improvisation.


Voice and infrared Sensor Shirt (2004-)
The infrared Sensor Shirt is a shirt on which is installed 10 infrared distance sensors. They are connected to computer, change voice following performer's body movements. The same interface was built for Hannah Silva and they made the duo version.
Piano version



Voice and the Right Hand
4 buttons and a two dimensional accelerometer are attached a band for the right hand. The computer analyzes the voice sound and the movements of the right hand, it changes compounded parameters of modulators for the voice in real time.
An old set-up for voice and electronics (1996)