Interpretations of Experimental Compositions
As a performer, director and organizer, Adachi presented concerts feature experimental compositions by other composers, especially works of John Cage, Christian Wolff and Cornelius Cardew in the 1960s. Many of them were Japanese premiere and he worked as a theatrical director for some of them. Through these projects, the following themes have been foregrounded; relationships between musical activities and politics/society (working with non-musicians), forms of notations for creative performances and fundamental ideas on live-electronic performance.
List of Selected Interpretations
*J.P.=Japan premiere  W.P.=world premiere

John Cage
Variations VII see below (performer, director J.P.), Europera 5 see below (director J.P.), Variations II (performer, director), Variations III (performer, director), Waterwalk (performer J.P.), Songbooks (performer, director), 62 Mesostics re Merce Cunningham (voice), Solo for Voice 2 (voice), 45′ for a Speaker (voice, J.P. with the Japanese translation by Toshie Kakinuma),  Musicircus see below (director)
Christian Wolff
Burdocks (performer, director J.P.), Prose Collection (performer, director), Edges (performer)
Cornelius Cardew
Paragraph 4 & 7 from The Great Learning (performer, director) Video, Treatise (performer J.P.)
Mauricio Kagel
Acustica (performer, director J.P.) Video1 Video2
Tom Johnson
Music & Questions (performer J.P.), 1 2 3 (conductor J.P.), Counting duets (performer J.P.)
David Behrman
Wave Train (electronics)
TONE Yasunao
Clapping Piece (conductor) Video, One day Wittgenstein.. (performer) Video

ICHIYANAGI Toshi
Appearance (electronics), Sapporo (conductor), Pratyahara Event (performer, director)
Alvin Lucier
(…..) Memory Space (director, performer)
James Tenney
Postal Pieces (director, performer)
La Monte Young: 566 For Henry Flynt
(piano, conductor)
The Fluxus Performance Workbook: works of George Brecht, Tomas Schmit, Dick Higgins, Milan Knizak, Genpei Akasegawa, Ben Vautier and others

George Maciunas: Piano Piece #13 (for Nam June Paik) + Tomas Schmit: Sanitas #151 Photo

Dieter Schnebel
Maulwerke (performer, director J.P.), Koerper-Sprache (performer, director J.P.), Visible Music I (performer J.P.)
TAKAHASHI Yuji
Irosesu (voice W.P.)
YUASA Joji
Calling together (voice), Kan-soku (voice)
Cathy Berberian
Stripsody (voice)
Jennifer Walshe
Nature Data (voice J.P.) Video

Matthias Bauer
Pi (conductor W.P.) Video1 Video2

Richard Barrett
Codex I (voice, conductor) Video

Josef Matthias Hauer
X. aus Klavierstücke op.25 (piano J.P.) Video

John Cage  Variations VII
January 29th and 30th, 2011
Performers: ADACHI Tomomi, ARIMA Sumihisa, IKEDA Takumi, MOHRI Yuko
at Asahi Art Square, Tokyo.
Realization of the largest live electronic piece by John Cage written in 1966. Four performers mixed any kind of real-time sounds generated in the performance space and transmitted from all over the world by telephones, radios, internet and even psychics. More than 100 live sound sources were used, include sounds from outer space, heart beats, brain waves, foot steps of audience. Many electric appliances were controlled by movements of performers and fishes in a tank. A mixing of the sounds was automated by wind directions of seven places around the world. Total duration of the performance was 4 hours.
Setting Photos
John Cage Europera V
September 6th 2007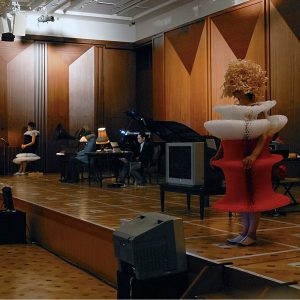 Akie Amou (Soprano)
Yumi Koyama (Mezzo Soprano)
Rikuya Terashima (Piano)
Naoyuki Asahina (Victrola)
Genta Iwabuchi (Light)
Sumihisa Amira (Sound)
Kenjiro Okazaki (Mask and costume design)
Tomomi Adachi (Direction)
The 20th anniversary concert of Suntory Summer Festival
Santory Hall

John Cage  Musicircus
15:00-17:00 Nov. 13th 2013
at Adachi Fish Market, Tokyo
It was the largest size Musicircus in Japan, involved more than 300 performers and more than 2,000 visitors. The performances included Buddist Sutra, lectures, martial art viewings, Japanese traditional rituals and samba parade.
From Space Shower TV